Our Home Renovation: Before & After
F
inally the home renovation post is LIVE, it only took 523 years!! This is another blog post that I have been struggling with to write for weeks. One minute I want to be super transparent and detailed with you guys but the next I don't want to call out any names and be mean(I'll explain). So here we go… Brian and I got married in 2008 and bought our first home the following year, I was just a youngster, 23 years old. It was the cutest starter home and we absolutely fell in love with it. We did minor renovations throughout the years and we couldn't have been more proud of the ultimate outcome, the memories made in that home or the buying and selling process as a whole…which on a side note was to another young couple as their first starter home.
Fast forward to March of 2017, inspired by the booming local real estate market, we get a wild hair up our asses and decide we need to sell. With no crystal ball warnings that we would ultimately end up with a renovation project on our hands, we accepted a full price offer after just a couple of days on the market and had to be out and closed on the home within 30 days. So we moved fast, and furiously sold/gifted most of our belongings and packed the rest in a POD. But wait, where would we live? We didn't even have a bid in on another house yet. So we did what any sensible people would do…we packed up the dogs and moved in with my mother.
The hunt for a new house was on. We had our minds set on a certain neighborhood which was in the same city we already lived in and of course the first house I went to see in there, I fell in love. The only downside, it was going to be almost a complete gut job so we kept looking for something that frankly needed less work. We then found another house in the same neighborhood. Beautiful landscaping, check. Great pool and outdoor area, check. On down the list it checked almost all the boxes, so we put in an offer. After some creative negotiations, It was accepted. The morning of the day we had to sign the contract, we both woke up feeling the same exact thing, we just didn't LOVE it. I kept pushing for the first house, regardless of the work it needed because I could see its potential and envisioned just what it could be. Brian was struggling with all the renovations that needed to be done, but after going to see it three times and sharing with him my vision, he was on potential. Needless to say, this wasn't as seamless as I am making it out to be… We put in our offer, wrote the homeowners a personal letter and the next day we heard they declined what we thought was a really fair offer. Brian and I were just devastated, we received no counter, no reason, nothing. After Brian and I did some thinking, we contacted the selling realtor ourselves in one last stitch effort to work out a deal. It worked. We ironed out some details and convinced the sellers we were the right buyers for their home (a true example to go after what you want, don't listen or let anyone else say otherwise). Shortly afterwards we closed on the home and construction started the following week…
From the very beginning, this renovation was far from easy. If you've ever done one, you know things don't always go your way, the subcontractors can be a pain in the a** to work with, you go way over budget and very rarely do the projects finish on time. I can sit here and be immature, call out individuals/companies so you NEVER work with them, but instead I'll be "mature" .
The one thing I can say, is we got an amazing contractor who did beautiful work and we couldn't be more grateful. We ended up re-doing the kitchen,  2 out of 3 bathrooms, painted the whole interior of the house, retextured all the ceilings… can't remember everything else, but somehow things just kept tacking onto our list as we went through the reno. There is still so much for us to do, decorating, paint the outside brick, landscape, renovate the third bath but…
Without boring you anymore, here are some before and after photos, I think it turned out okay 😉 (I am not a professional photographer so be easy on me).
Family Room / Kitchen
BEFORE: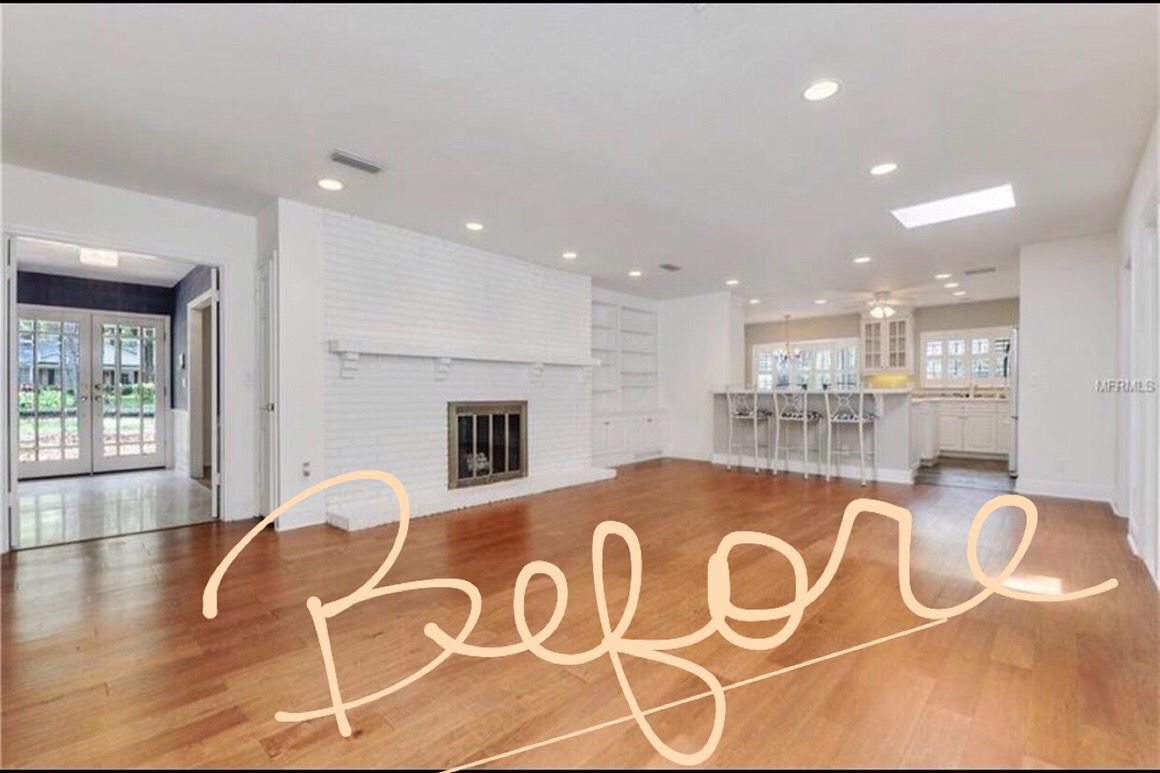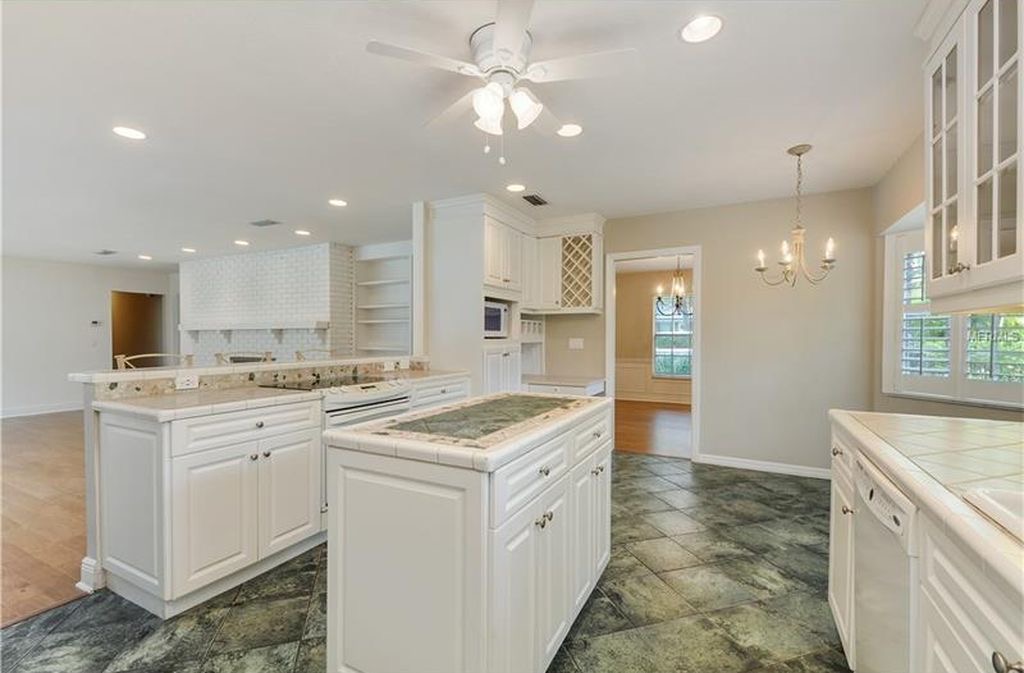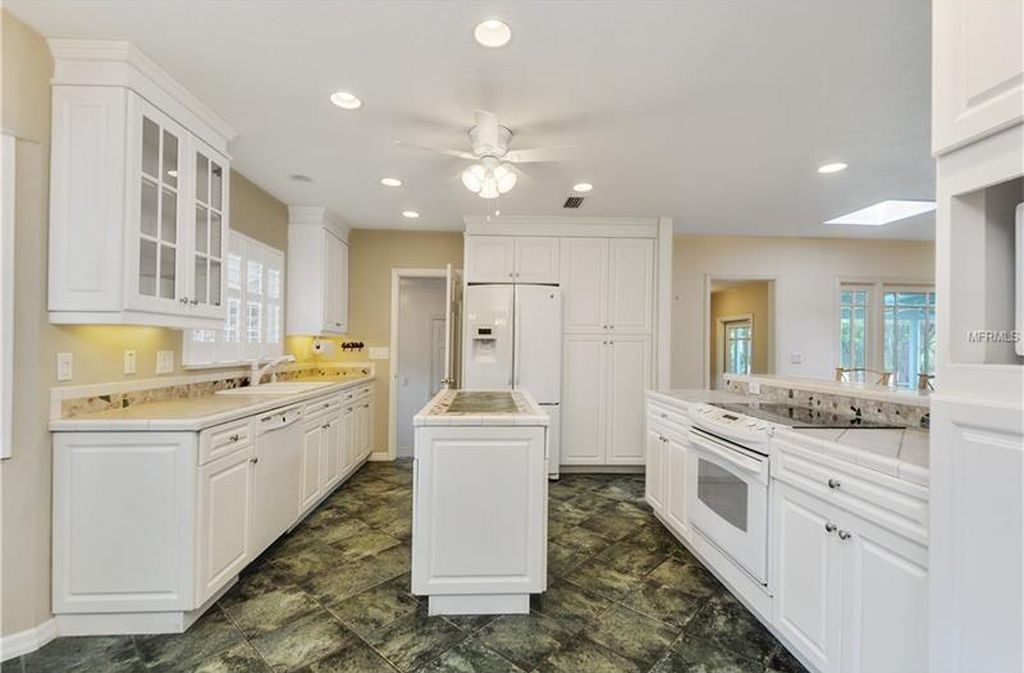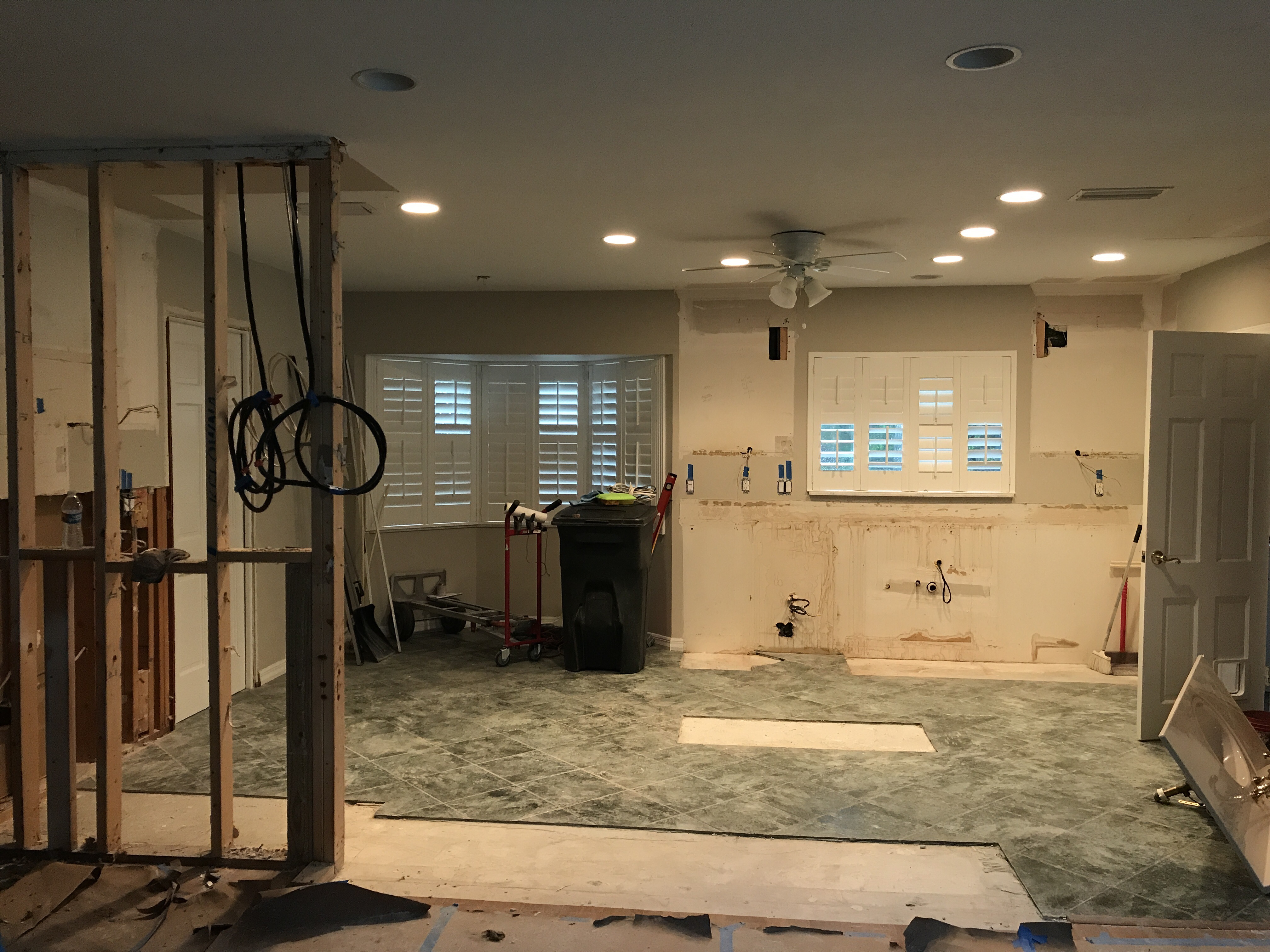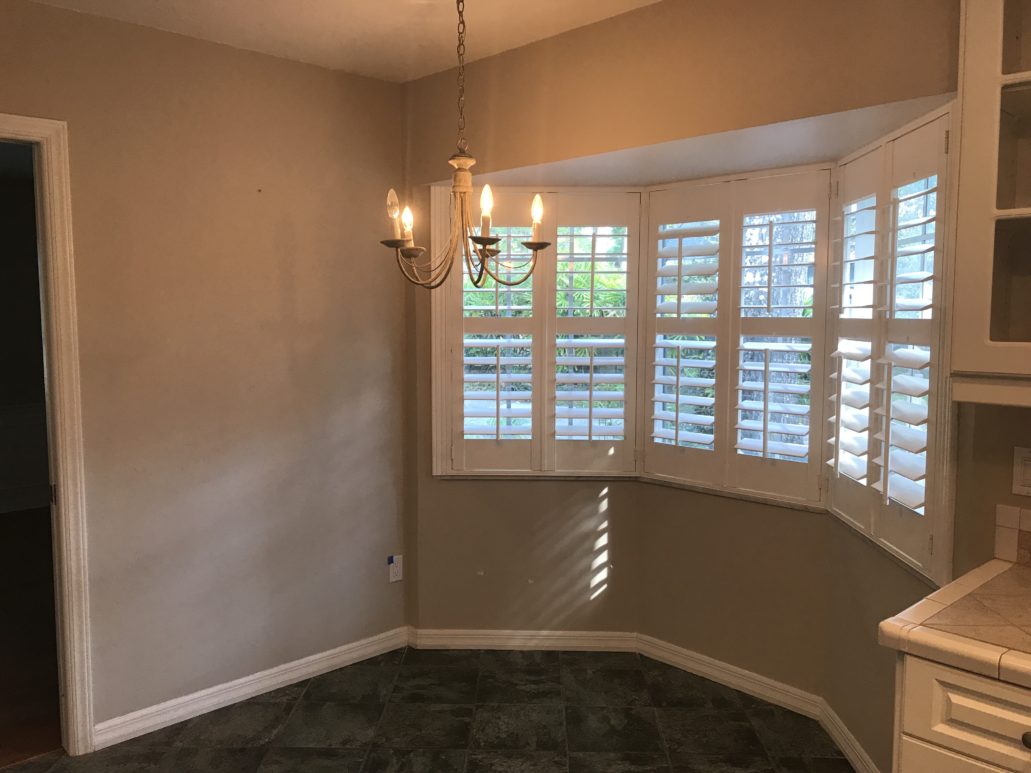 AFTER: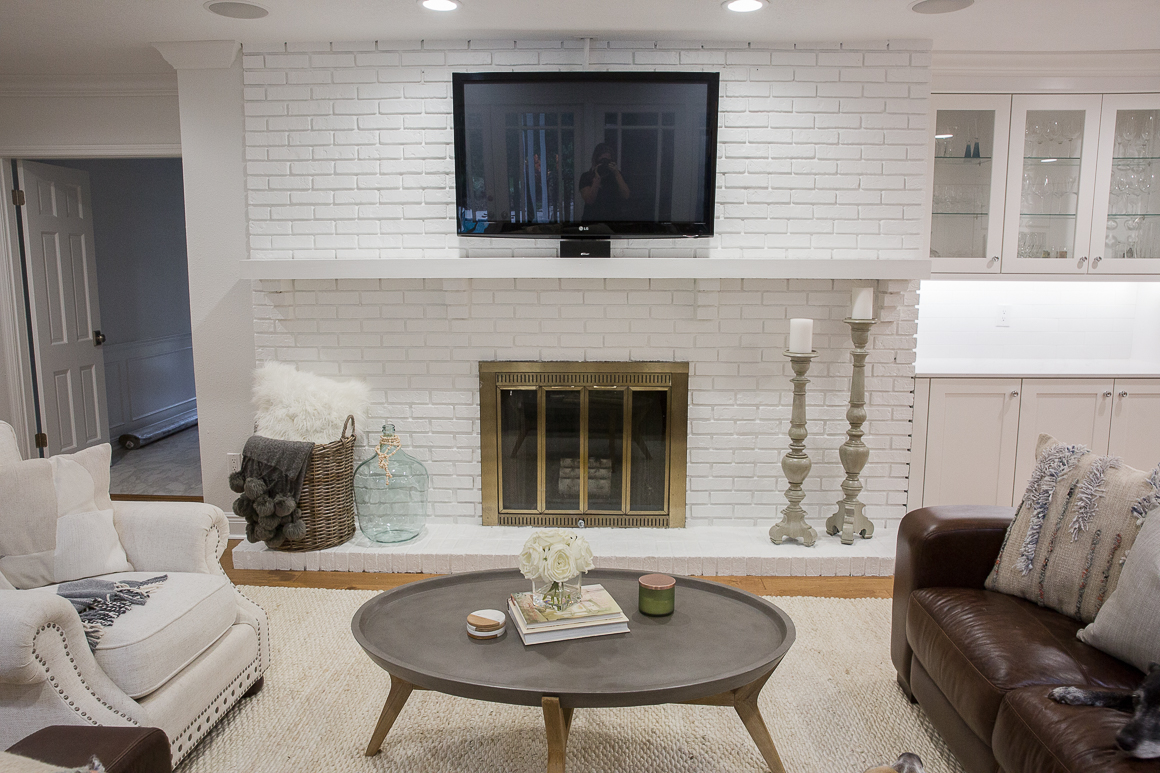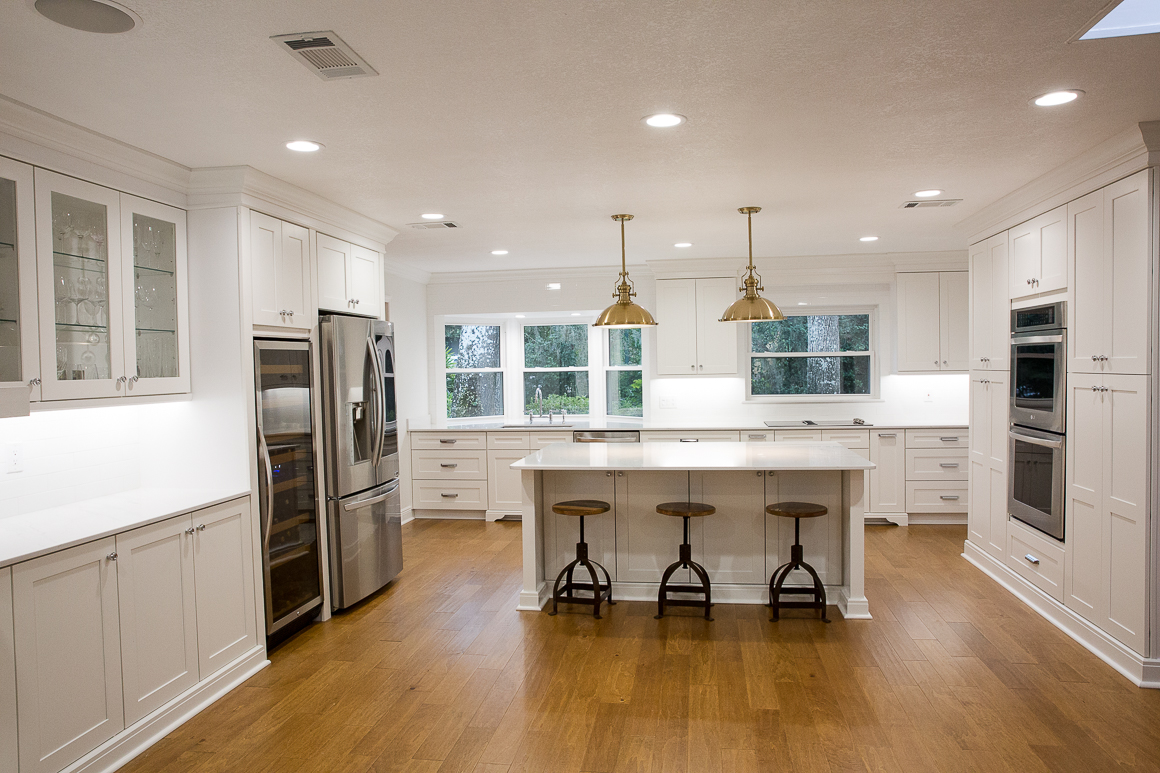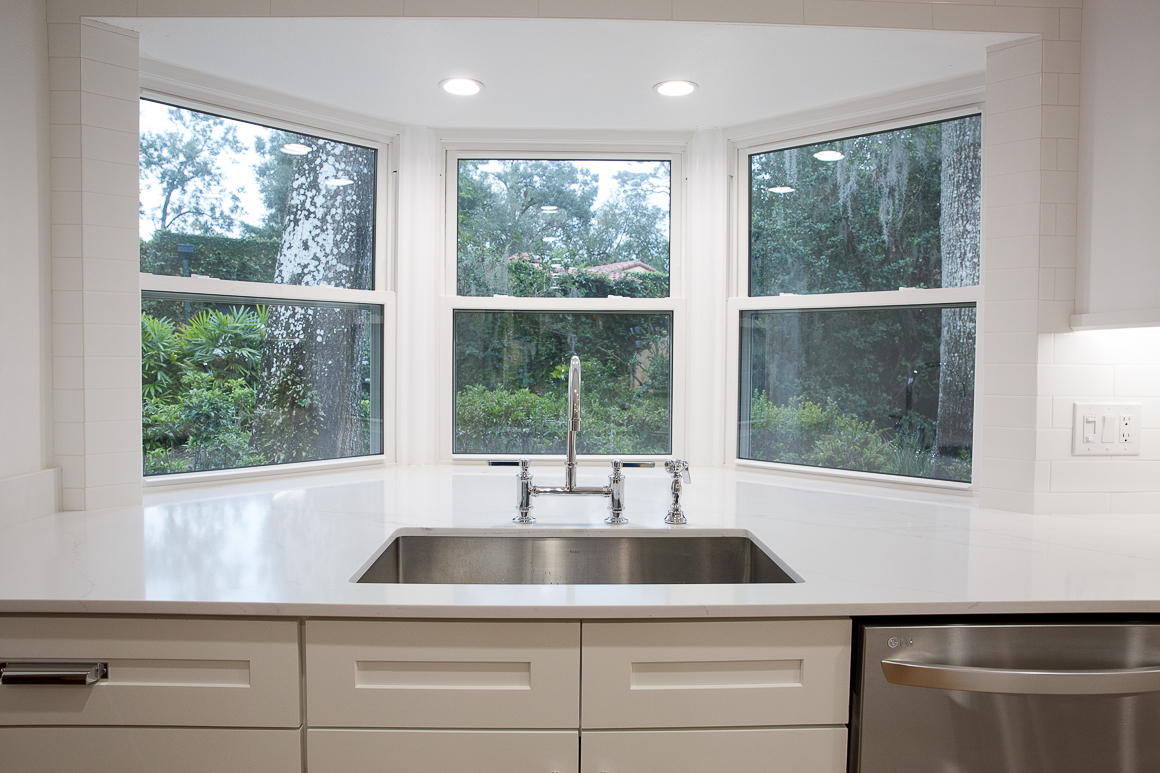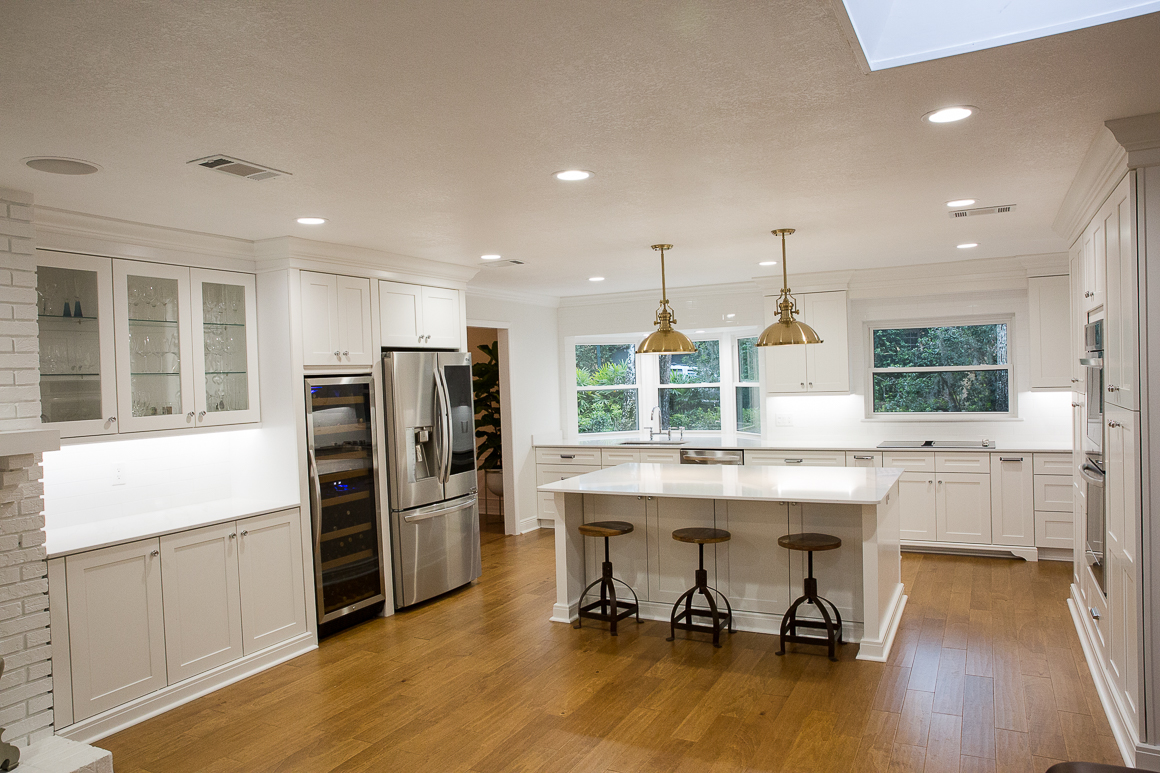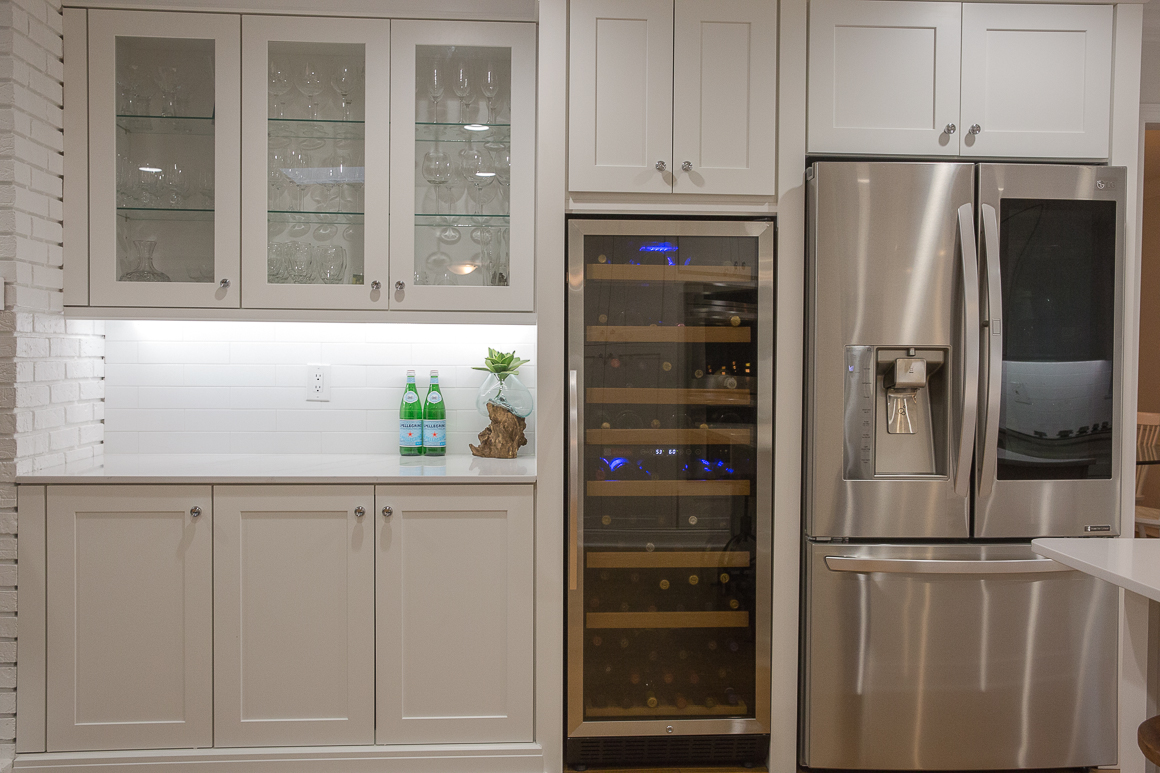 GUEST BATH:
Couldn't find but one before photo… it was straight from the 90's…use your imagination. 😉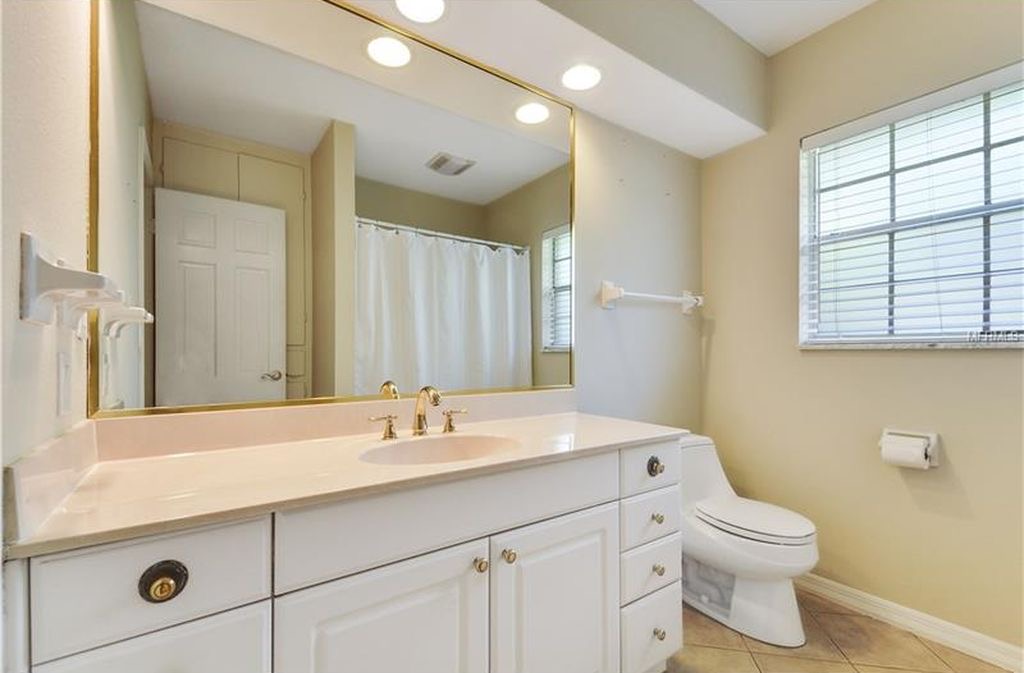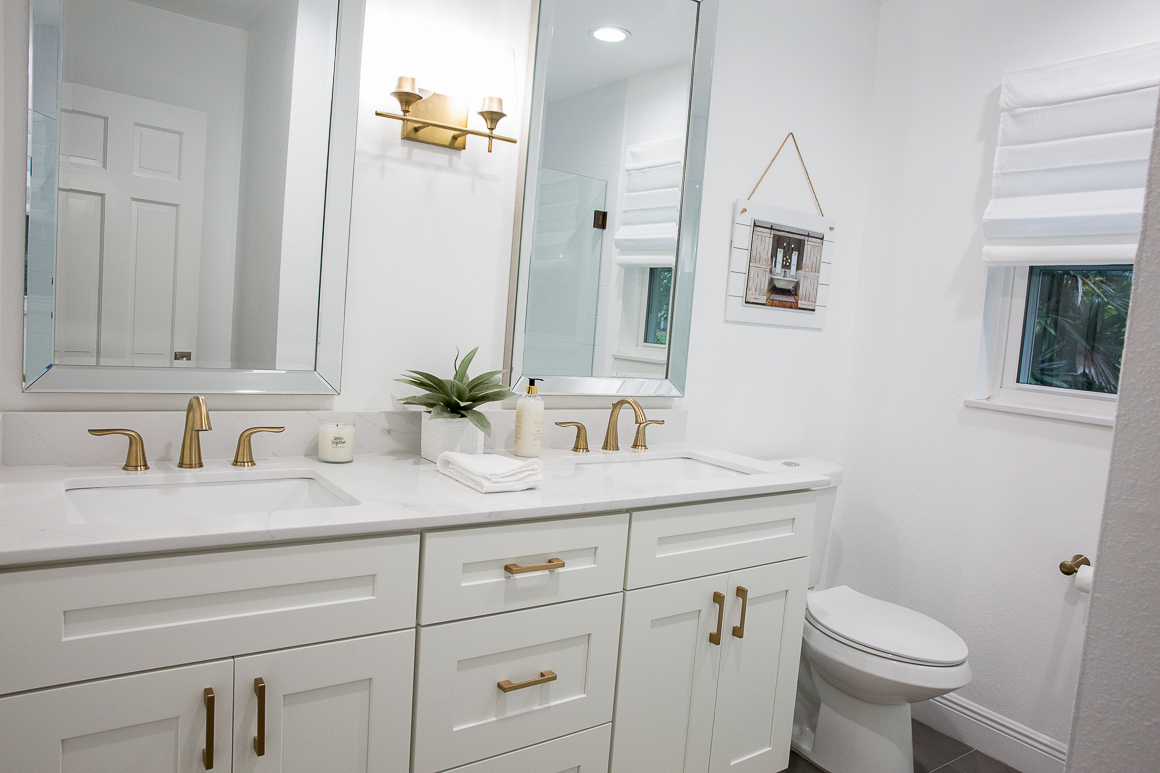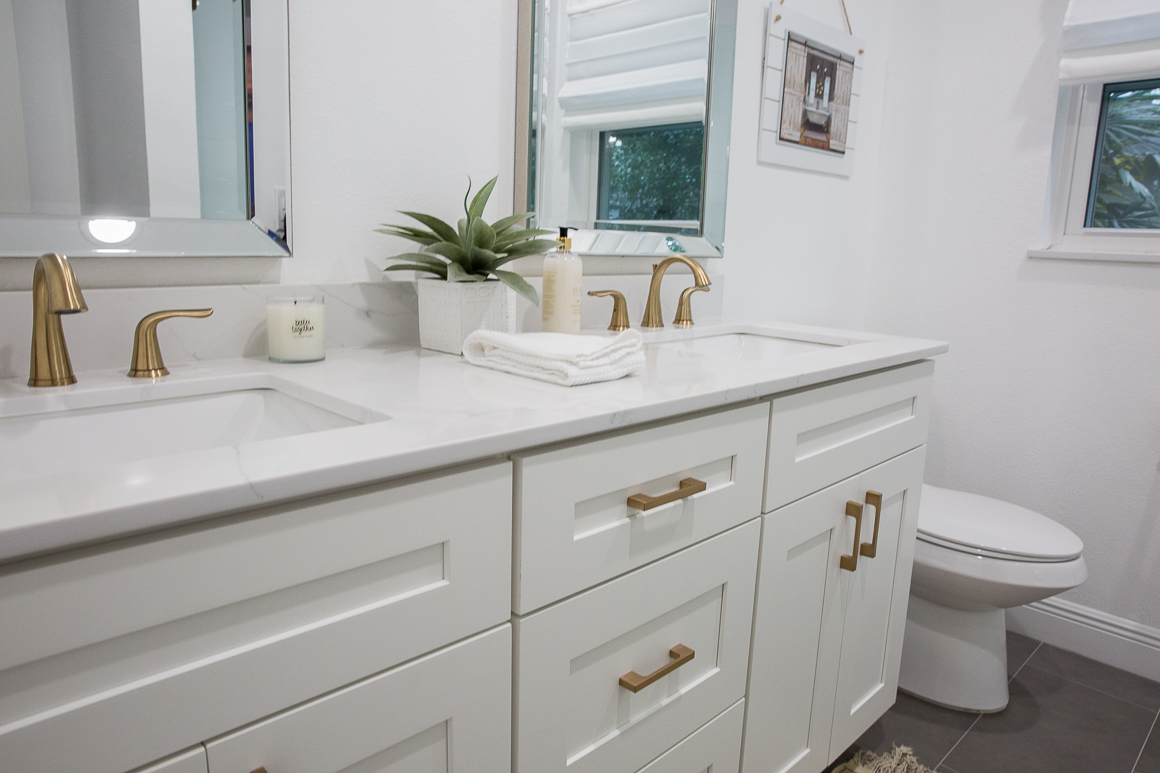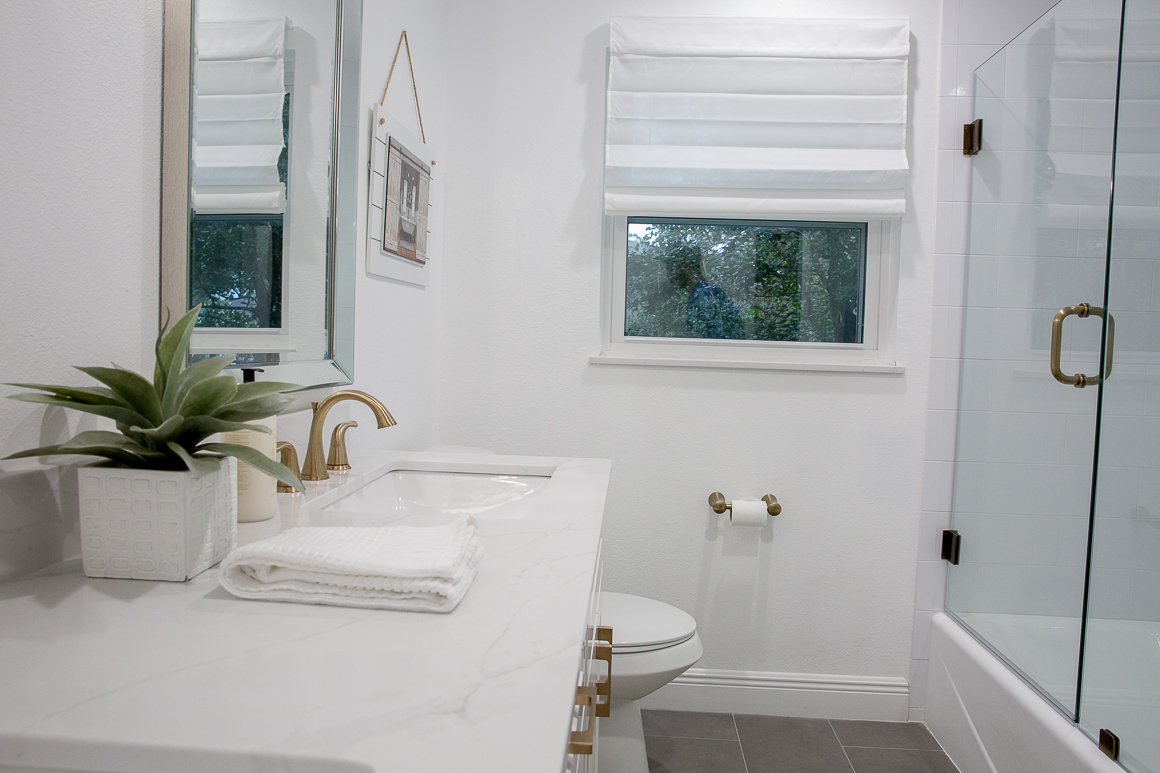 Master Bathroom:
***Again, couldn't find any before photos of the bathroom. There was a closet along the left side of the bathroom wall, a wall in the middle of the bathroom with an emerald green fake marble jacuzzi, huge water heater and toilet on the other side. This was also from the 90s, use your imagination…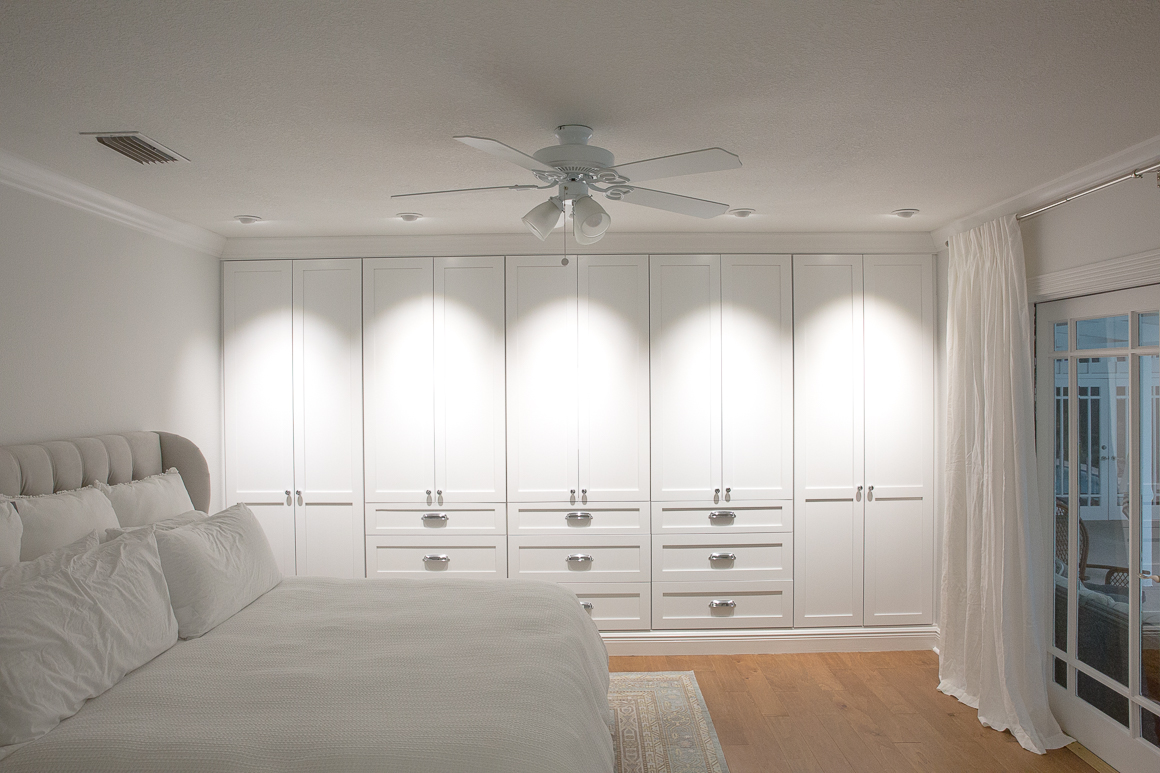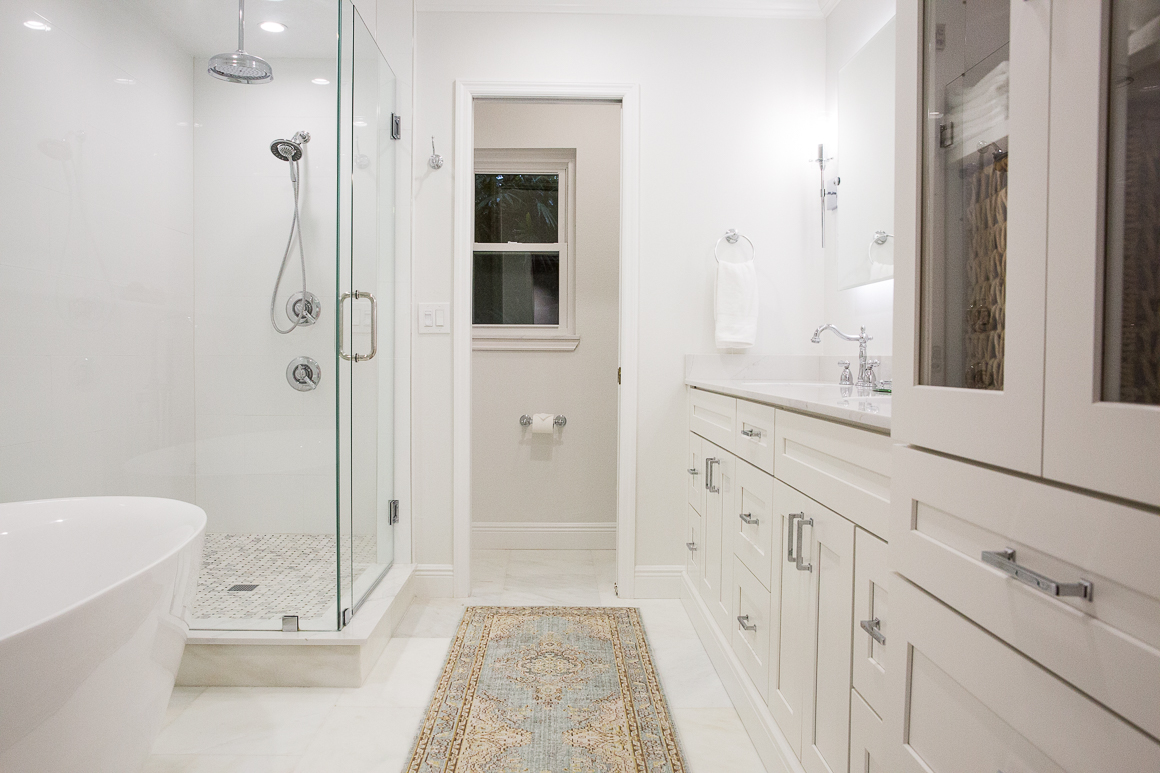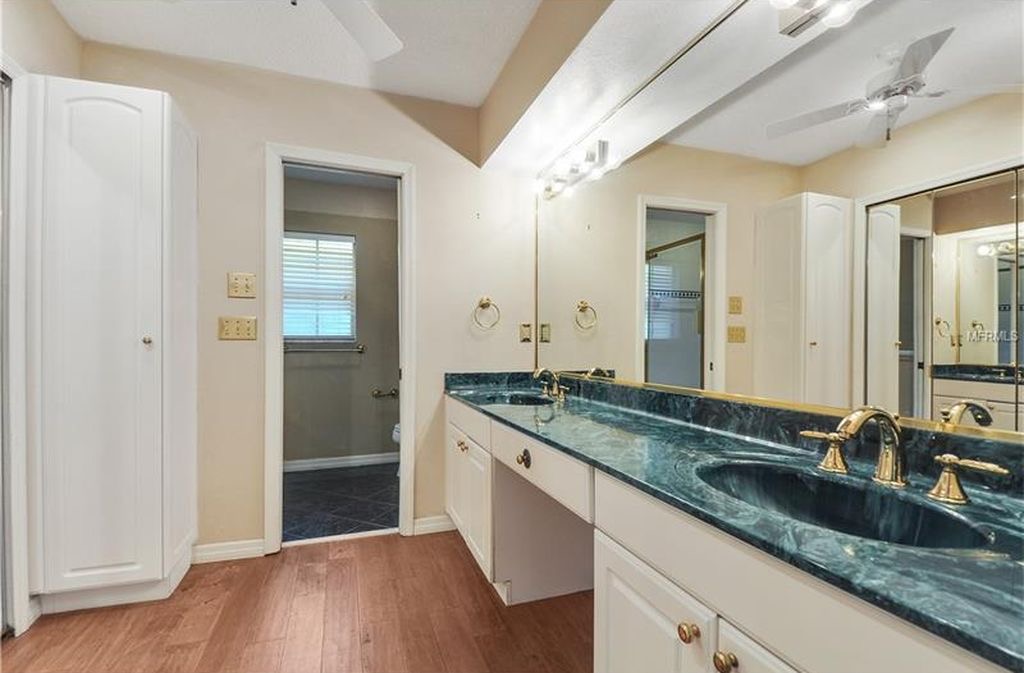 ***Wardrobe was hand made by: Wood Concepts of Orlando (incredible work)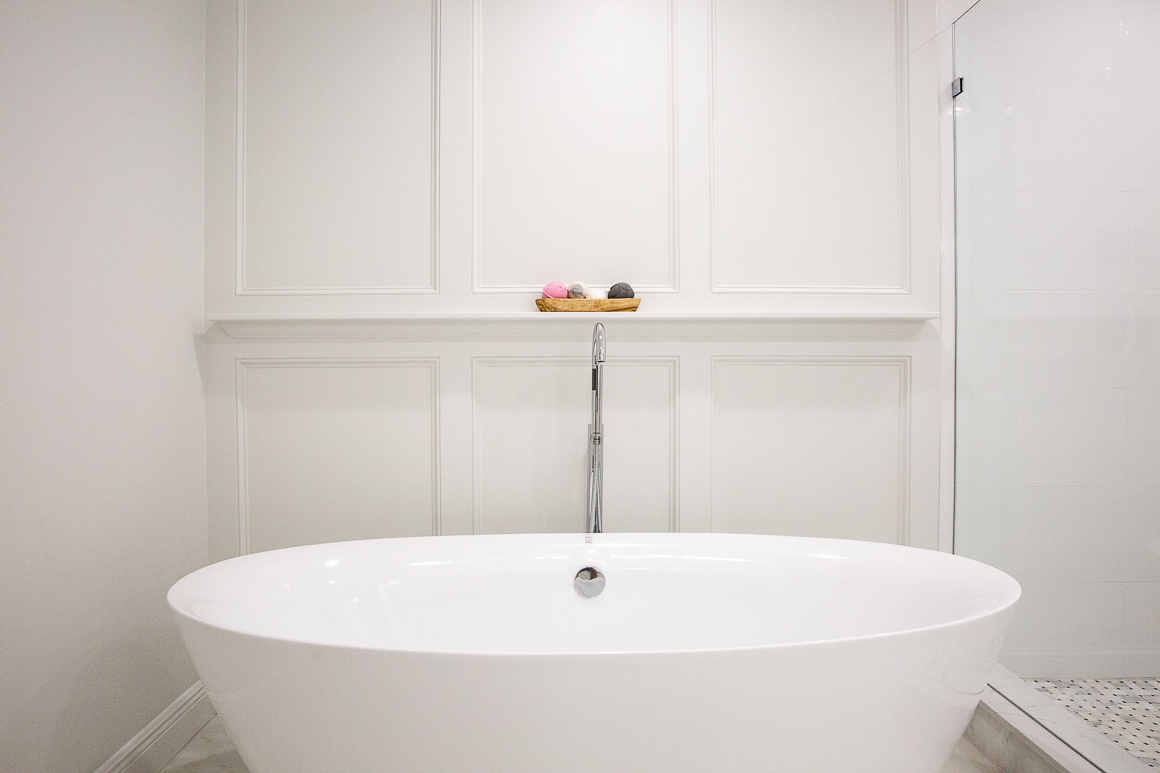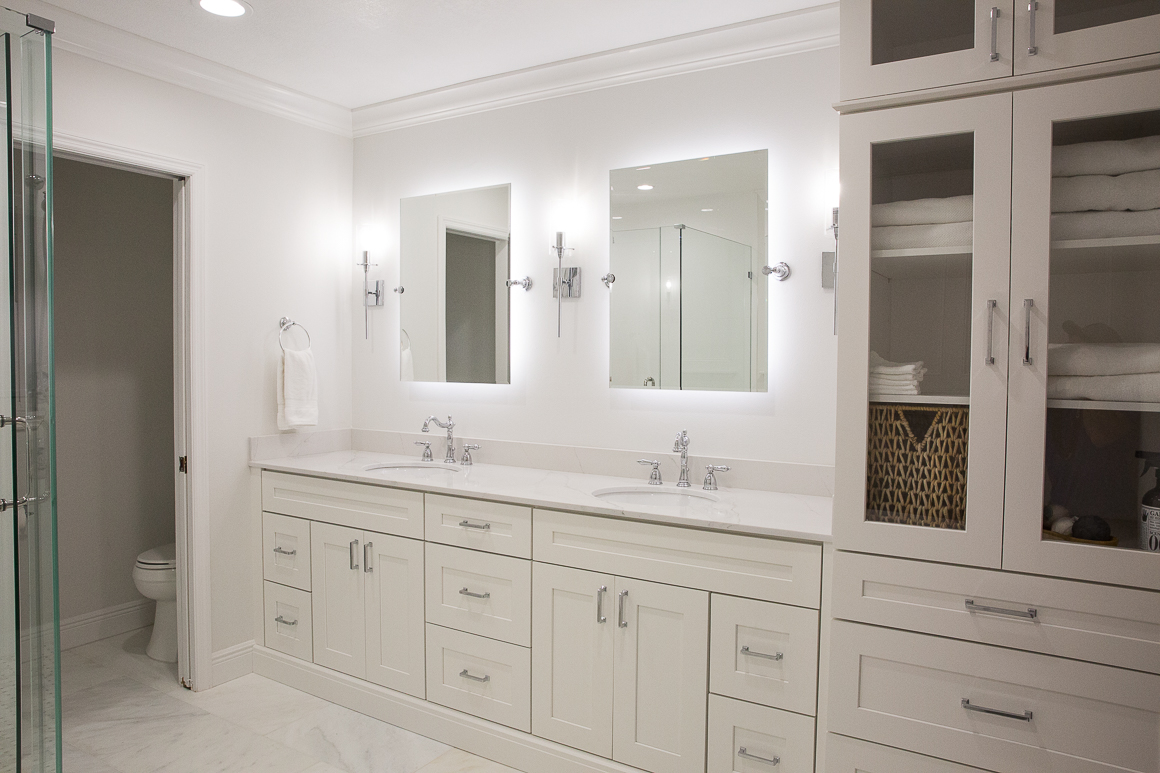 There is still so much decorating to do, its very bare and sparse, slowly but surely I will be adding new items and sharing them on the blog with you. More home decor posts to come in 2018, thanks for those of you who voted over on Instagram stories.
Contractor: JD Home Repair & Remodel
Cabinetry: We will not recommend the guy who did ours but you definitely need to contact Wood Concepts of Orlando. He carries the same cabinetry and does amazing work , he also is the one who did our built-in wardrobe in the master bedroom (pictured above). 
If you live in the Orlando area and need some recommendations for a contractor, kitchen cabinetry, renovations, repairs, etc. just e-mail me at [email protected]. I will be happy to help, because I know it is hard to find people you like and trust! 
SHOP THESE HOME ITEMS: