My Favorite Nordstrom Anniversary Sale Picks
It is time for the Nordstrom Anniversary Sale, the most poplar sale of the year! I know it is hard to think about buying fall clothing right now but this specific sale kicks off my favorite season at discounted prices. I rounded up all my favorites in hopes I can be a resource for you, this way you are not spending hours going through pages of items. In my opinion, this sale is the one I like to buy my staple items ex. denim, booties, sweaters, and a cozy barefoot dream blanket.  I somehow convinced Brian to make the 2 hr drive with me to the Tampa Nordstrom last Friday and we had the best day shopping. If you need a little inspo for that male in your life, I added all the items Brian bought as well. I did a full try-on in instagram stories, and also saved everything to my Nordstrom highlight on my IG as well.
There are different shopping dates you can shop depending on your Nordstrom status (dates listed below):
Your Nordy Club level is based on yearly spend amounts, though all cardmembers automatically start at Influencer status. You can only shop Anniversary Sale Early Access as a cardmember.
July 12: Early Access for cardmembers with Icon status.
July 14: Early Access for cardmembers with Ambassador status.
July 16: Early Access for cardmembers with Influencer status.
July 28: Anniversary Sale opens to the general public.
These few staple items are the ones I highly recommend getting while they are on sale. You will have them for years!
1. These Good American jeans are THE BEST (run true to size). They were my go to all last fall/winter, and this year I grabbed these in black (picture below). I also LOVE these afford pair of denim, I also have them and wear them tons. Super comfy just not as flattering as my good american.
2. If you haven't grabbed a barefoot dreams blanket (their cardigan is amazing as well, I have this one  (pic below) I highly recommend getting one while on sale. They also make for the perfect gift! I have a few of these blankets now because Brian, our dog, Narco and I fight over them daily!
3. I am sure you already have a pair but if you don't, Spanx faux leather leggings are the IT legging every fall/winter. They are super flattering and perfect with sneakers, heels, and boots. I've had mine for years and they are still in great shape. I recommend going up a size – they are tight but suck you in!
Here are last years favorites that are back again!

Below is what I bought. I linked it all and included size info for you as well.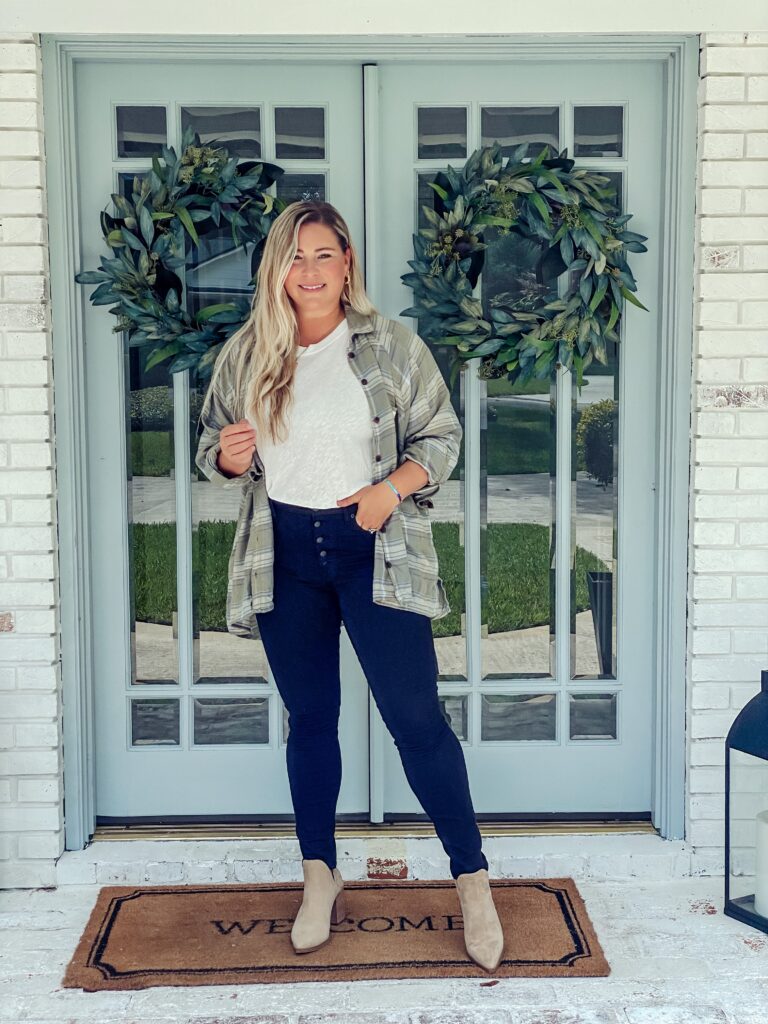 Denim (true to size), Free People Tee (true to size), Plaid Shirt (oversized, wearing the large), Booties (if in between, go up 1/2)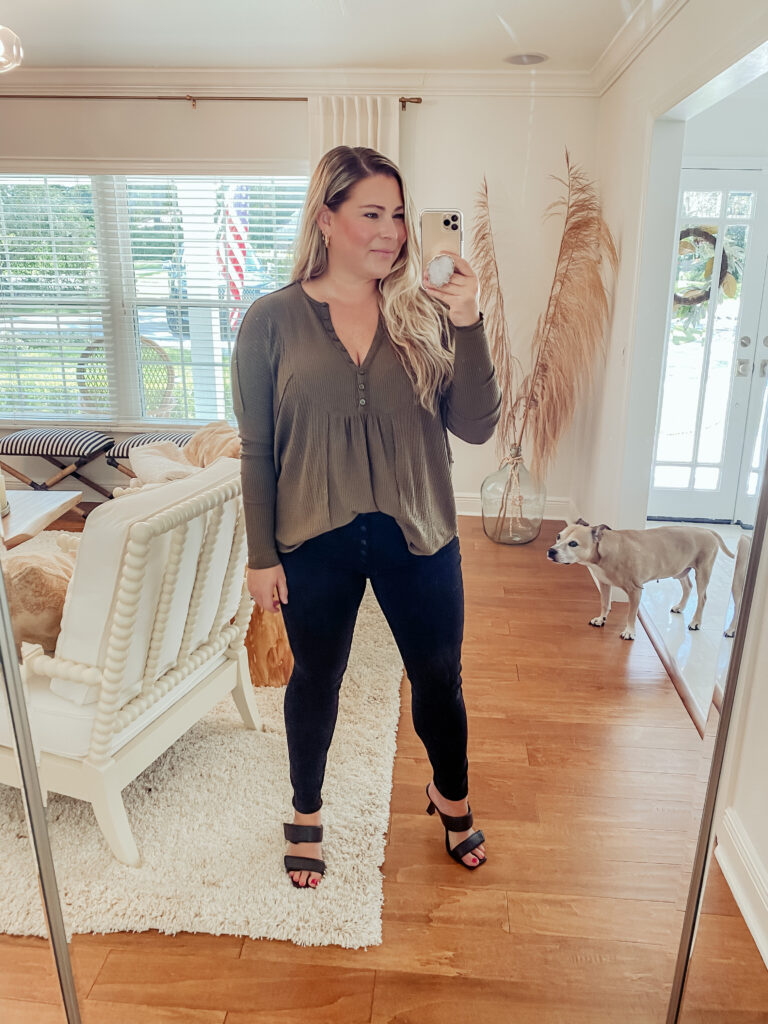 Same Denim, Waffle Knit Top (size down), Heels (true to size) adjustable velcro straps.

Denim (true to size), Tee (wearing the medium), Heels (True to size).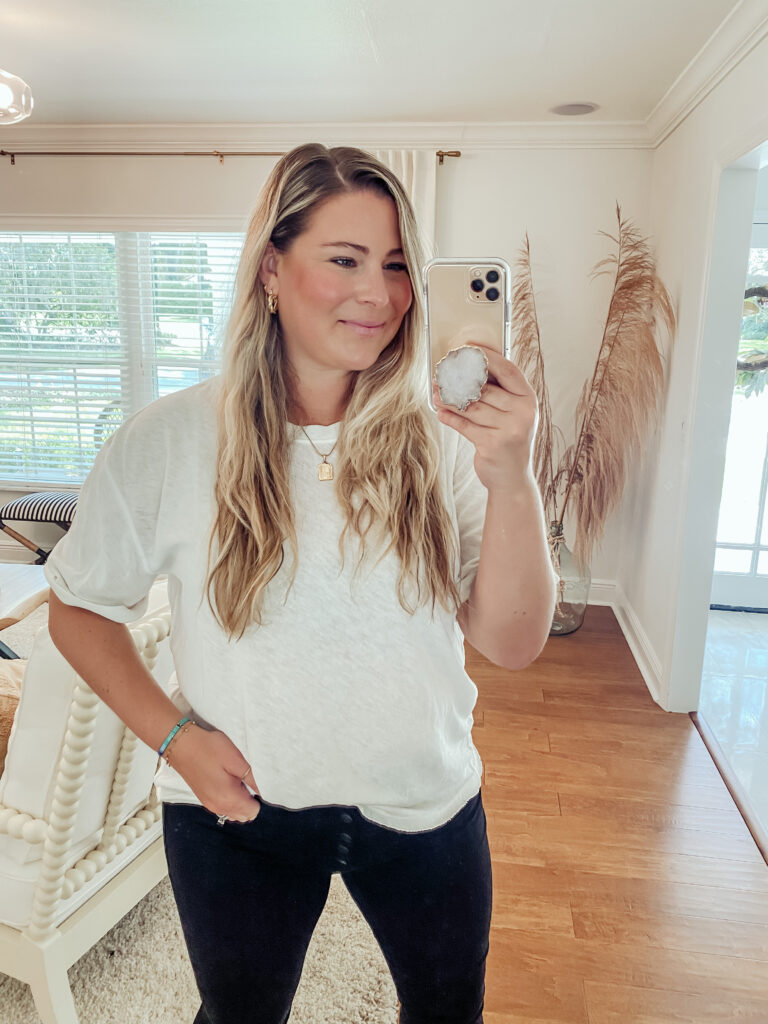 Denim (true to size), Tee (wearing the large).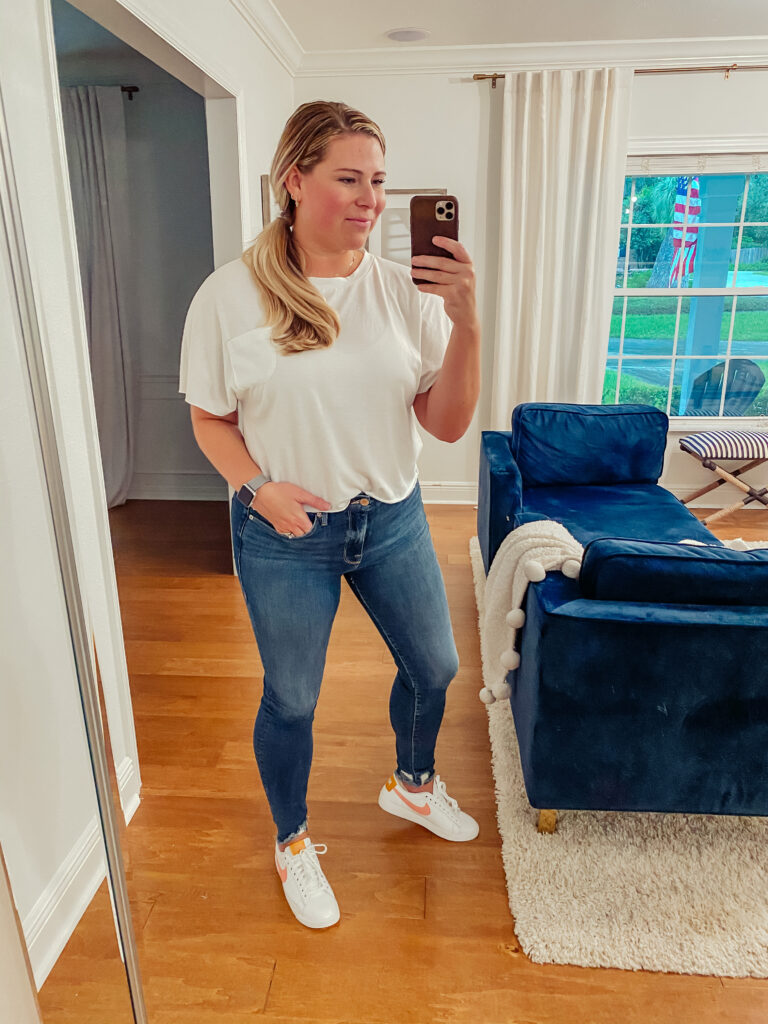 My favorite pair of denim (true to size), Sneakers (this years version, true to size)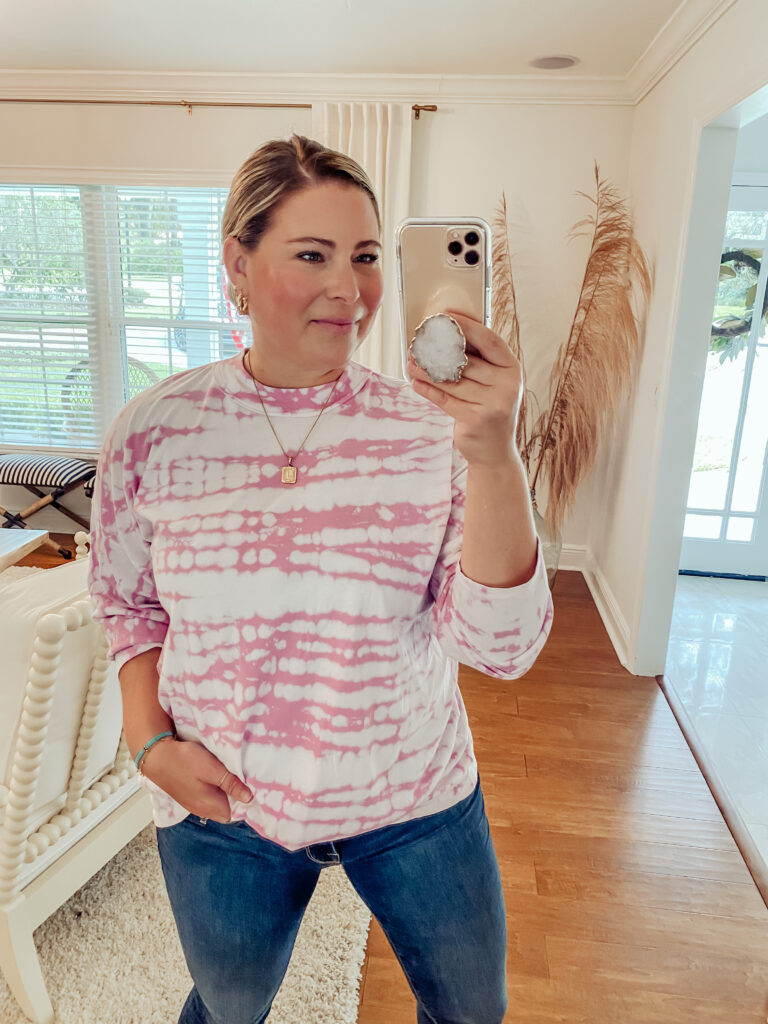 Denim (true to size), Longsleeve tee (comes in many colors, wearing the medium).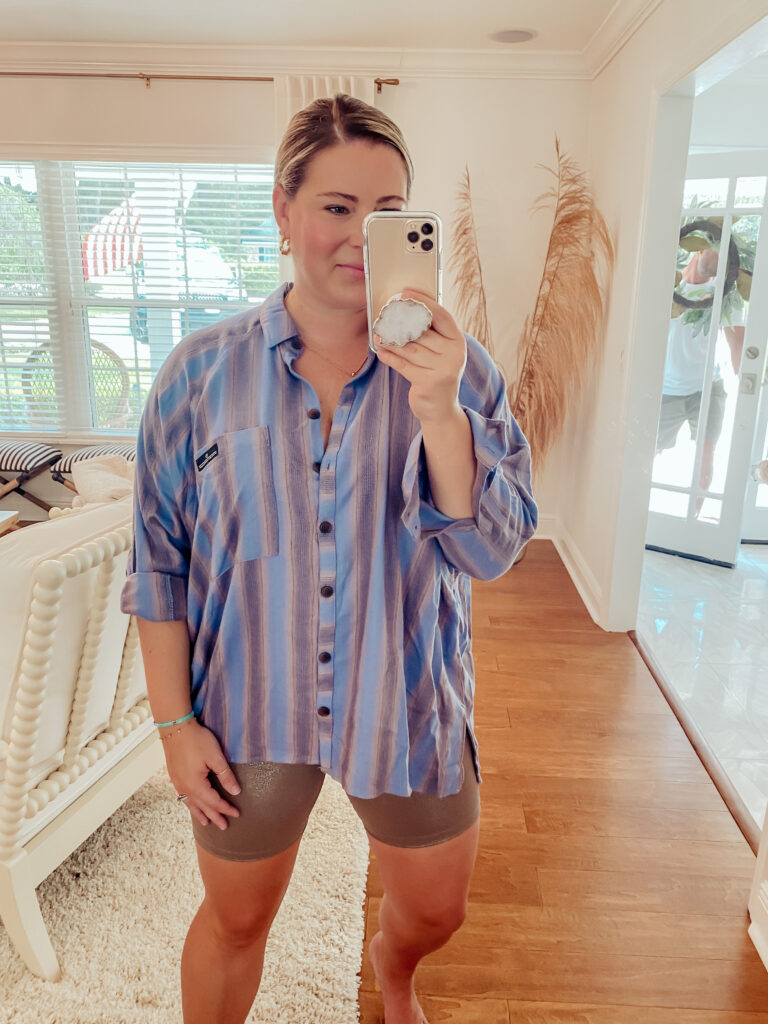 Biker Shorts ( true to size), Plaid Flannel (Size down).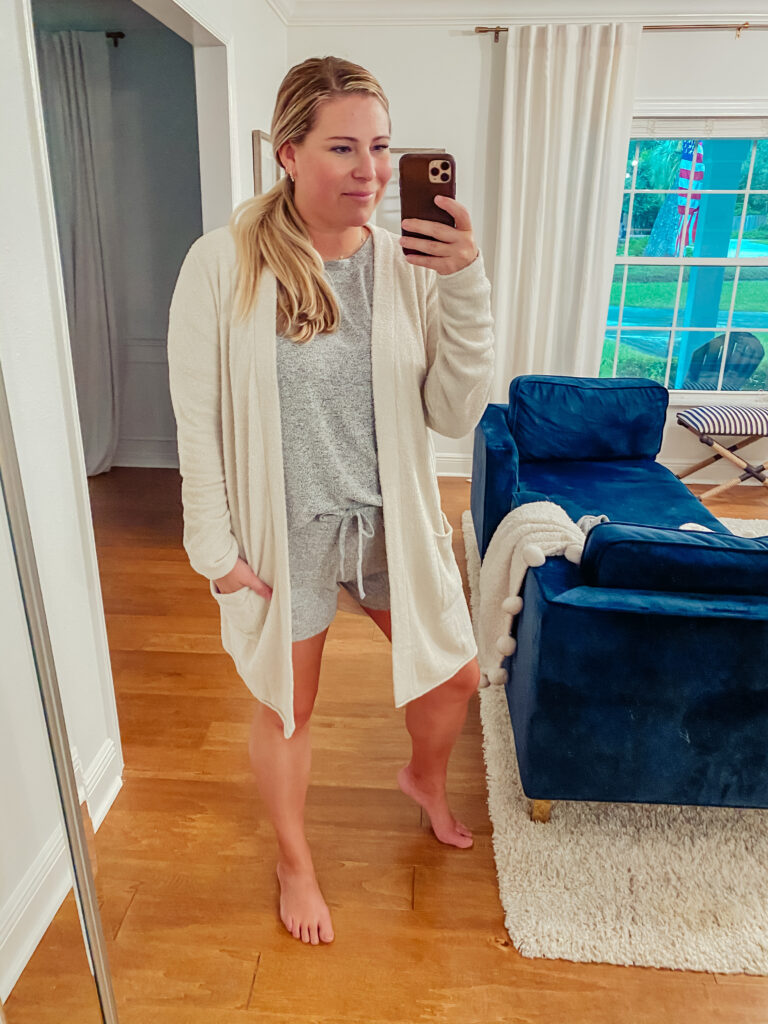 I have had these three items for years and wear them all the time. I have the matching pants too. All true to size.

These are the items Brian bought from the Nsale: 

This is the suit we bought him for my sisters wedding in November, it was almost 50% off!!! It is Navy with black stripes (true colors in the close up picture but the lighting was also very yellow). Did you know if you know Nordstrom does free alterations?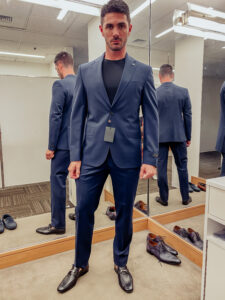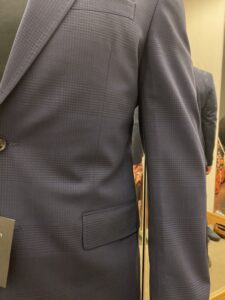 Below are my picks from each category: 
Jackets:

Denim:

Boots:

Activewear:

Cozy:

I hope this was helpful! Please DM me on instagram or email me if you have any questions! Happy shopping!