5 'Must Try' Stations At Epcot Food & Wine
W
ith Disney's Food & Wine Festival quickly approaching (as in TOMORROW), I cannot wait to get my mitts on all the delicious choices!
Disney's Food & Wine Festival
happens every year starting  – , 2016. This year they have some great choices! If you've not been before, it's a must go. But, not looking like a tourist while sampling these stations, can be an obstacle…
Every time I go to Epcot, finding something to wear that doesn't scream, "hi, clearly I'm not from here" can be a task. You know you're going to be on the fly all day and don't want to carry a monster bag where your entire life is thrown at the bottom and you're spending way too much time looking for cash!  (The people behind you get annoyed, trust me). On this particular day, Jocelyn and I were heading to Epcot for only a few hours. I wanted something easy to hold that still fit the essentials. I need to be able to carry my wine, my turkey leg and dance to show tunes simultaneously. This black fanny pack is perfect and it's under $35, from Never Naked Boutique. I threw my fanny pack on with my lightweight amethyst purple dress, also from Never Naked Boutique! It really was perfect for a few hours at Epcot. I'm sure we will see it again now that the Epcot Food & Wine Festival is about to kick off! Follow our new Snapchat @NNBSisters to see just how frequent we end up there… it is sometimes embarrassing (ask our friends… huge fans). Oh and they have the Epcot after 4p pass, for Florida residences. For $13/month you can get into Epcot after 4p for a year… ding ding winner!!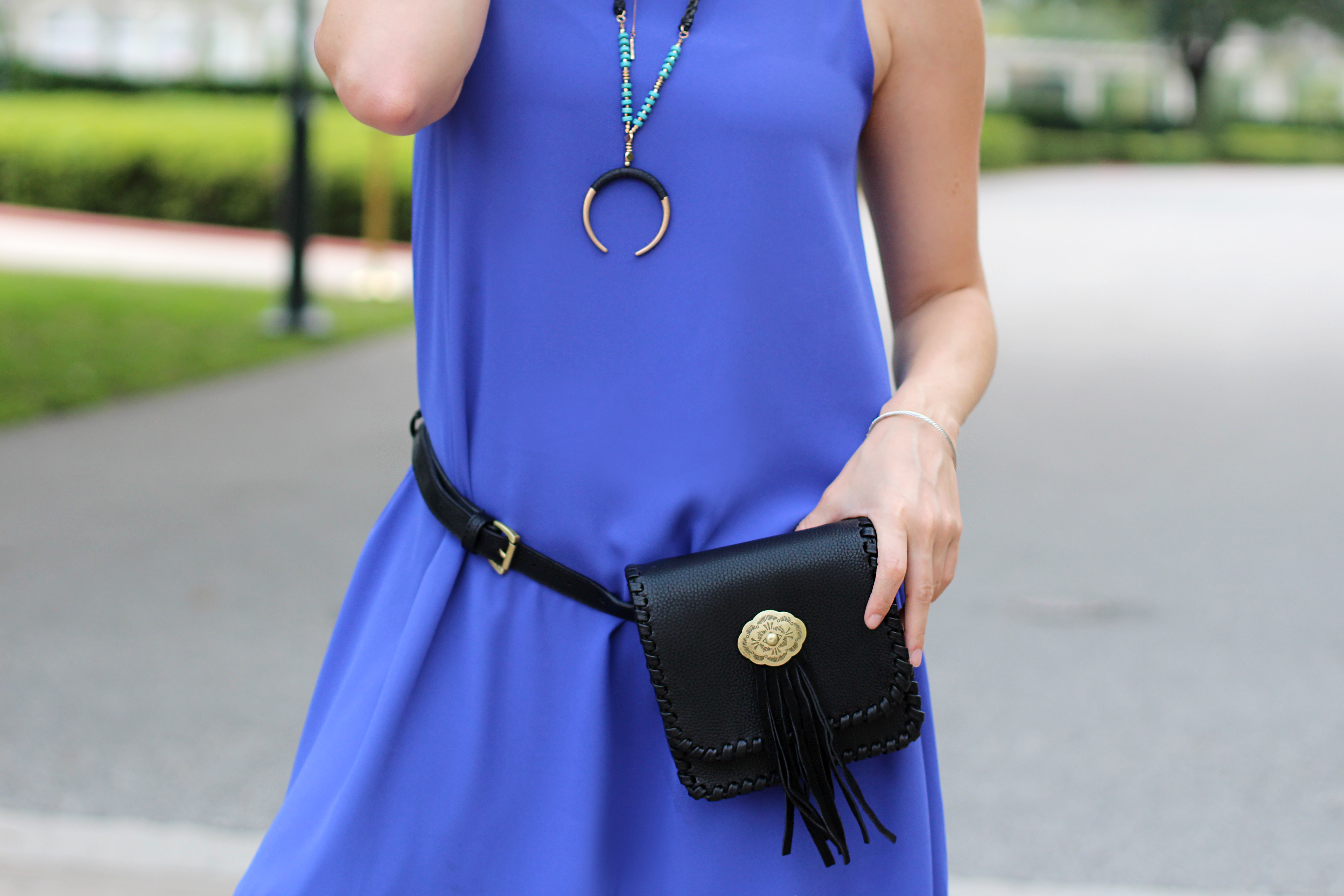 And now to the good stuff: There are tons of food/wine tasting stations you can choose from this year!
5 'Must Try' Stations For Epcot Food & Wine Festival 2016
1- Farm Fresh
Chicken and Dumplings: Stewed Chicken with Mushrooms and Spinach with the Florida Orange Groves Mango Mama Wine
2- Hawaii
Spicy Tuna Poke with Seaweed Salad and Nori Rice
Kalua Pork Slider with Sweet and Sour Dole® Pineapple Chutney and Spicy Mayonnaise
3- Australia
Grilled Sweet and Spicy Bush Berry Shrimp with Pineapple, Pepper, Onion and Snap Peas with Château Tanunda Grand Barossa Dry Riesling, Barossa Valley
4- Greece
Chicken Gyro with Tzatziki Sauce featuring Oikos® Greek Yogurt
5- Italy
Cannoli al Cioccolato: Chocolate-covered Cannoli filled with Sweet Ricotta, Chocolate and Candied Fruit
I prefer images when ordering my food (like I am 5), but trust me if you go with these recommendations, you won't be disappointed! Let me know which were your favs. You'll see us on Snapchat there a lot these next few weeks… full disclaimer in advance. Who doesn't love the mouse house? I mean really.
Outfit Details: Never Naked Boutique Dress, Black Fanny Pack, Hat (Old, Similar)
XX,
Chelsey