Recipe: Mushroom Cream Pasta
H
appy second day of Spring! I missed it yesterday, oops! Today's post is a little out of the norm for NNB but I am really excited to do more lifestyle content, which is what you all wanted as well. So here we go…
If you saw my stories on IG last week, then you watched Chef B aka my husband, Brian make this pasta dish and it was so good!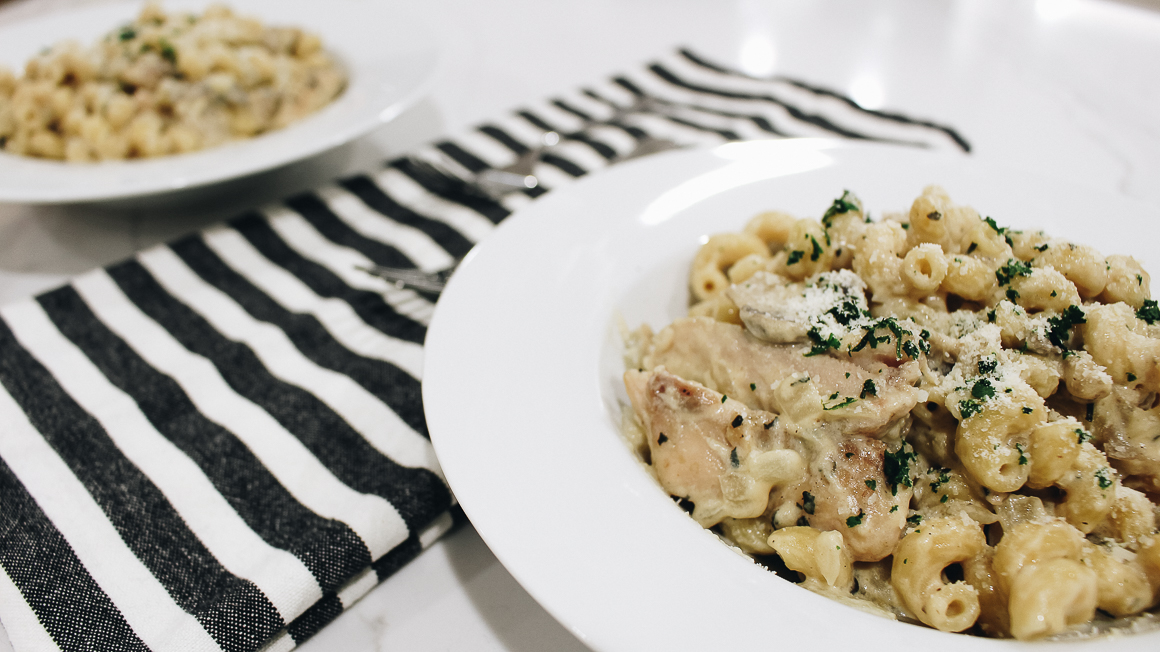 Ingredients:
4 Cups of Cavatappi Pasta Noodles
Skinless Boneless Chicken Thighs (or breasts)
1 Quart of Chicken Stock
1 12oz Can of Evaporated Milk
1/3 Cup of Milk (or Cream)
1/2 Cup of Dry White Wine
1 Tablespoon of Olive Oil
4 Cloves of Garlic (Minced)
8oz of Mushrooms (would be fine without)
1 Medium Yellow Onion (Chopped)
1 Teaspoon of Basil
Fresh Grated Parmesan Cheese
Instructions:
Trim and wash chicken thighs or breast and then season them with basil, salt and pepper.  Heat olive oil in large saucepan over medium heat and brown chicken on both sides cooking through until they reach an internal temperature of 165 degrees.  Once done, remove chicken and set to the side.
Add fresh oil to the sauce pan and add garlic and onion, fry until onion begins to look translucent (don't burn the garlic)!  Add white wine and reduce heat to medium low and allow to simmer about 5 minutes or until it begins to reduce down.
Add mushrooms and continue to cook for about 3-5 minutes until they begin to soften.  Now stir in the broth, milk (or cream if your feeling frisky), salt and pepper.  Bring heat back up to medium until sauce should begin to simmer with a slight gurgle (technical cooking term).
Add pasta to the mix and stir thoroughly, cook for about 15 minutes maintaining a consistent simmer until pasta is al dente.  While pasta is cooking, slice chicken into cubes or strips and leave on the side.
Once pasta is cooked to your liking, add fresh grated parmesan cheese, stirring until melted through.  Add chicken to the mix and whip it, whip it real good.
Garnish with parsley and serve with more cheese if desired…Enjoy!
Thanks,
Jocelyn