3 SEO Image Optimization Tricks For 2017
When we started blogging 4 months ago, we realized that SEO was a completely different world. Neither Jocelyn nor I come from that world of marketing, but we did understand how important it is to do these 3 SEO Image Optimization Tricks For 2017 to help us rank better in Google…


3 SEO Image Optimization Tricks In 2017
Just Think N.A.S.A
N – name your image
A – Alt tags
S – smush it
A– …and lift off
It doesn't matter if you listen to Neil Patel's Marketing Podcast or Pat Flynn's Smart Passive Income, they all say SEO is so important to blogging successfully. Optimizing your blog's images are a critical factor within SEO, so I rounded up my top 3 SEO tips and tricks
Name Your Image: 
Every time we upload an image from our Dropbox, it would say something like: Img_4849.JPEG. There was no title, no description… nothing. That's like picking out a the perfect puppy and not giving it a name… NAME that darn thing! After listening to Podcasts and reading a TON about SEO, we realized no named images were directly affecting our SEO performance and our pictures we not showing up in Google or other search images.
What To Do:
Instead of uploading your images directly as they appear in your Dropbox, edit the titles to include your main keywords.
For These Images, I used: 
Cold-Shoulder-Graphic-Sweater.jpg
Cold-Shoulder-Navy-American-Eagle-Sweater.jpg
Cold-Shoulder-Light-Weight-Graphic-Sweater.jpg
When renaming your file images, here are 4 rules to follow:
1 – No need to use filler words such as "a" or "the" in your images
2 – Be sure to use dashes and not underscores
3 – Include your main/long-tail keywords i.e Cold-Shoulder-….
4. Within a set of images, have unique names for each, so you're able to rank for more keywords
YES:
Cold-Shoulder-Graphic-Sweater.jpg
Cold-Shoulder-Navy-American-Eagle-Sweater.jpg
Cold-Shoulder-Light-Weight-Graphic-Sweater.jpg
NO:
Cold-Shoulder-Graphic-Sweater-1.jpeg
Cold-Shoulder-Graphic-Sweater-2.jpeg
Cold-Shoulder-Graphic-Sweater-3.jpeg
Alt Tags & Title Tags
The google 'minions' are unable to recognize images visually, so you HAVE to use the alt and title tags to help them understand what your images are about. Bob, Stuart and Kevin need all the help they can get (hopefully you've seen the Minions movie?)
What To Do:
Super easy to edit your alt and title tags in WordPress, view the example below once I uploaded an image to a post:​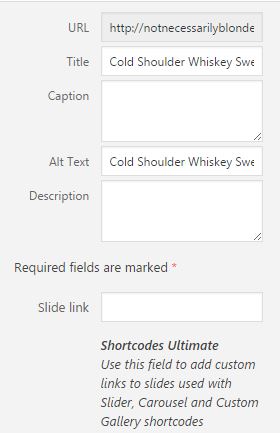 Title tag: Clear and concise.
Alt tag: Make descriptive as possible, but not too lengthy.
Smush It… Smush it real good
People have the attention span of a 2 year old. So, when they get to your page, they want that content uploaded fast (studies show you have 3 seconds for it to load or you are SOL). In order to keep your page's load time as speedy as possible, you need to smush your images… and smush them real good! (Hopefully you know the salt-n-pepa reference here?)
So how large should your image size be?
That is an excellent question… we have a 150 ppi and for landscape it is 1160 x 773. For Portrait it is 377 x 566. How do you figure that out? Well, Jocelyn and I are the 'minions' here, so we asked her husband, Brian =). However, you can also ask the web developer for your WordPress theme what the suggested ratios are.
What To Do:
There are a few online tools, some paid and others free, that can help you edit and reduce the size of your image. We use Smush It which is a plug-in that allows you to smush your images down after you've uploaded them while maintaining quality!
Photoshop: We have Photography Creative Cloud pack that includes both Photoshop and Lightroom for only $10/month.
PicMonkey: A free tool. We've never used it, but we've heard great things about it!
And Lift Off:
It's simple… just remember that N.A.S.A is the key to image optimization and ranking higher in Google.
N – name your image
A – Alt tags & title tags
S – smush it
A– …and lift off
Hope this post was helpful… what do you think about these 3 SEO Image Optimization Tricks For 2017?
XO,
Chelsey