Gift Guide: For Him
Can you believe it is Black Friday already?! By now, you probably have already done some in-store shopping and are now online looking for more deals. Or maybe you haven't left the house at all today and are still in your undies shopping all these amazing deals…

Here with the help of my husband, Brian we have rounded up our top 12 favorites for the man in your life. He went through and picked what he wanted for Christmas or already has and thinks is a great gift. So what is a better guide than one that is from a stylish man!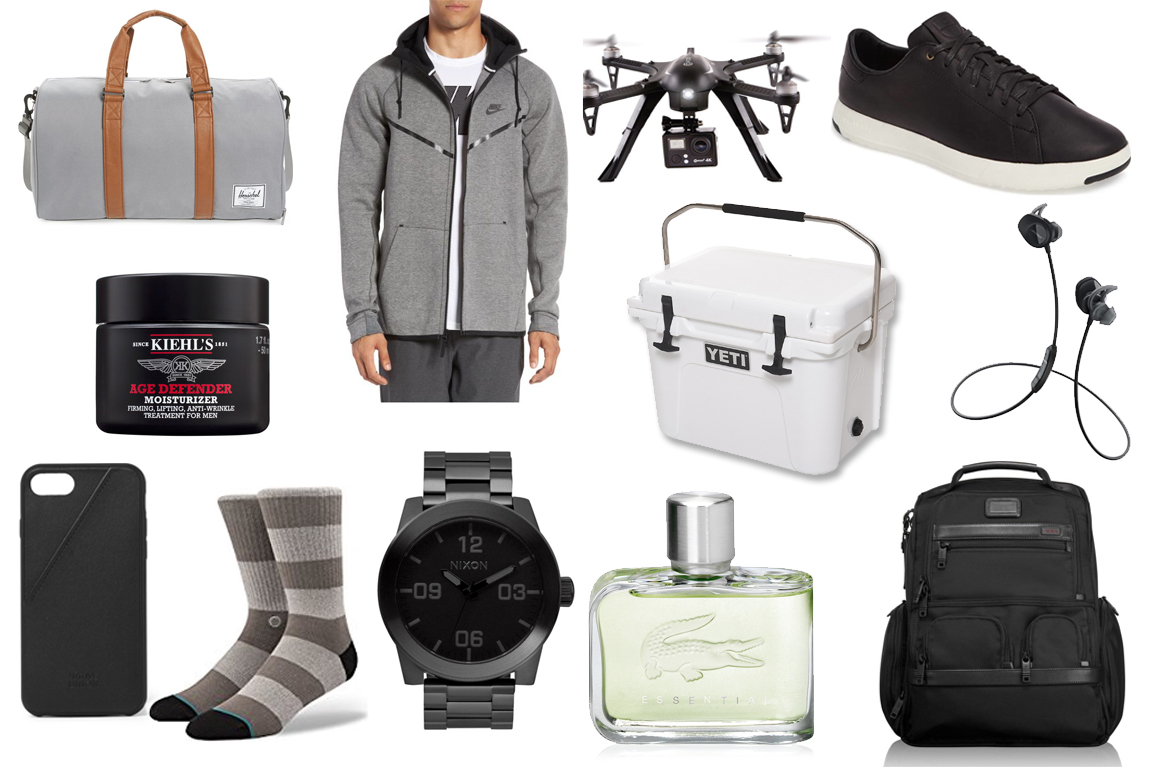 Just click on the links below:
Herschel Duffle Bag: This is the perfect bag for a quick travel or weekend stay. Instead of your man using his super old ripped bag that you are embarrassed to be seen with, give him this "in style" travel bag.
Nike Zip Up Jacket: Whether he is sporty or not, every guy needs a good Nike jacket. Pair this with jeans, or even sweat pants, with Nike tennis shoes…he is instantly "sporty".
Drone 4k Camera: This is the first thing on Brian's list. What man wouldn't want this (period).
Cole Haan Shoes: Brian has an obsession with Cole Haan shoes and has these black ones in cognac. He loves them!!
Kiehl's Face Moisturizer: About six months ago I got Brian into taking care of his skin. Now he is hooked on moisturizing and we can honestly see a difference in his skin!
Yeti Cooler: I think this is such a great gift and it is UNDER $100 today, like whoa?!
Bose Bluetooth Headphones: So this is something Brian already owns and uses EVERYDAY! Great for working out, doing things in the lawn, or like him, traveling. See he is one of those people that instantly puts on headphones when he sits in his seat on the airplane so no one talks to him (LOL). Such a great gift!
Black Phone Case: I think every guy needs a slick black leather phone case. I don't know, I think it is sexy. lol
Stance Socks:  If you haven't heard of Stance, now you have, you are welcome! They have the best undergarments for men. Brian LOVES their boxer briefs and socks so much!
Nixon Watch: I am pretty sure every time I do a gift guide for men, there is a Nixon watch in it. If you know Brian he has about 10 watches and all but one are Nixon. They are very nice quality for the price! He owns this watch and picked this one specifically for this guide.
Lacoste Fragrance: The best scent on a man in my opinion. I just love it and he has worn it for probably about eight years.
Tumi Black Backback: It's no surprise Tumi is the best luggage company out there… in our opinions. For work he loves this backpack to travel all his laptops and gear. Perfect for the traveling man!
We hope you loved all these items and as always, if you have questions just e-mail us or leave a comment below.
Happy Shopping!
Shop The Post: